School Group Visits
Group appointments for the Toyota Commemorative Museum for Industry and Technology are accepted on the home page of this site.
Please be aware in advance that reservations should be made from the first day of the month that is three months before your visit to up to four days before your visit.

* Please consult with the contact below if it is fewer than four days before your visit.
Contact to the reception group
TEL 052-551-6115 FAX 052-551-6199
ukeire@tcmit.org
* Please use this application form only if you cannot make a reservation through the website.

Download Application Form
Service
Discounts are available.
Junior and senior high school students and university students are admitted at half price (250 yen for university students, 150 yen for high school students). Elementary students and teachers are admitted for free.
Up to five teachers may make a pre-visit inspection at no charge.
Groups may use a hall at lunch time, at no charge. Available only on request, subject to room availability.
* Visiting groups should inquire and apply to the reception group in advance.
---
Brochures are available in PDF format.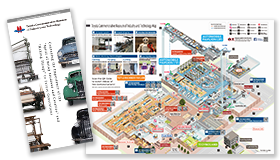 Introduction of the Museum
---
Experiential Learning Program for 5th Graders
We created an experiential learning program to show an automobile manufacturing industry about which 5th graders study.
Click here for details of the experiential learning program.
---
Lockers (luggage baskets) available for groups.
Groups of 20 or more can take advantage of the group lockers (luggage baskets).
* We cannot take reservations in advance. Please apply on arrival at the main information desk.
---
Technoland
The entrance is permitted for about 40 people at any one time.
A teacher must accompany students at the time of entrance. We request him/her to watch over the students once entered.
Please refrain from running around the facility in order not to bother other visitors.
Please do not stay longer than one hour.
Please experience the Technoland after leaving your belongings at the cloak (about 80 backpacks can be stored) upon gaining entrance.

Please use the group lockers if the number of backpacks is over the storage limit at the cloak.

For Sundays, holidays, and spring, summer, and winter breaks, etc., we institute a system of limited rotating admissions with numbered tickets distributed on the day of admission.
* Click here for more details
The experience will be interrupted if operators determine that the safety of operations are difficult to maintain.
We might assess the cost of repair and decline any future admissions if troublesome behaviors, such as causing willful harms to the playing facilities, occur.
---
Waku-Waku Exciting Experience Section
The Waku-Waku Exciting Experience Section on the first floor of the Automobile Pavilion is only open on Saturdays, Sundays, and holidays.
It will also be open on weekdays during spring, summer, and winter break for elementary schools, except on days when the museum is closed.
Click here to go to the Waku-Waku Exciting Experience Section page.