Museum Cafe
Opening hours

9:30~17:00

Closed

Monday (Tuesday, if Monday is a holiday), year-end, and New Year's holidays

TEL

052-551-6243 (A common number)
This is a self-service cafeteria where you can enjoy soft drinks, light snacks, and seasonal sweets. It is located between the Textile Machinery Pavilion and the Automobile Pavilion, and it is the best place to take a break.
All of the staff are sincerely looking forward to your visit.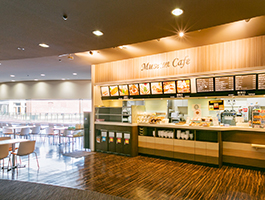 Snack Menu
Snack & Drink Combo 970 yen
* The photo is only a representation. The dishes for the main course change regularly. Please ask our staff for details.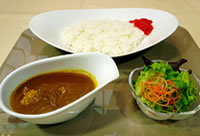 ---
Curry and Rice (Spicy or Mild with Beef or Soy Beans)

500 yen

Curry and Rice & Drink Combo

650 yen

Curry and Bread (Spicy or Mild with Beef or Soy Beans)

500 yen

Curry and Bread & Drink Combo

650 yen

Shrimp Pilaf (with Soup)

650 yen

Shrimp Pilaf & Drink Combo

800 yen

Assorted Sausages

560 yen

Chili Dogs

260 yen

Breakfast Set(9:30~11:00)

350 yen

Soft Cream

260 yen

Cake & Drink Combo

500 yen
Drink Menu
Cocoa(Hot/Iced)

360 yen

Citrus Junos Ginger Ale(Iced)

360 yen

Citrus Junos Tea(Hot/Iced)

300 yen

Café Au Lait(Hot/Iced)

300 yen

Milk(Hot/Iced)

260 yen

Coffee(Hot/Iced)

260 yen

Tea(Hot/Iced)

260 yen

Orange Juice

260 yen

Apple Juice

260 yen

Coca-Cola

260 yen

Ginger Ale

260 yen

Melon Soda

260 yen

Fanta Grape

260 yen