Development of Loom Technology
Imagine weaving fabric using the yarn spun by a spinning machine. In this loom section, you can clearly see the transitions in loom technologies from a human-operated loom, a power-operated loom, an automatic loom, to a computer-controlled loom. You can also understand well the high technology at present by comparing the fabric weaving processes in sequence by actually operating a real loom, and you can sense in your bones the excellence of human wisdom.
History of Improvements on Traditional Looms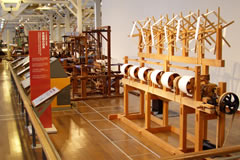 The improvement on traditional looms in Japan began when the technology brought back from Western Europe in the early Meiji era was attached to a traditional, treadle-operated tall loom. A Jacquard machine that weaves vivid patterns and a treadle-operated tall loom with a fly-shuttle (batten) that increased the productivity are displayed.
* a shuttle: a device on a loom to insert wefts
Development in Domestic Looms: From Motorization to Automation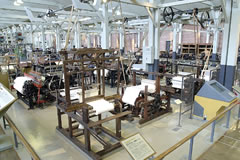 The exhibits displayed are various looms invented by Sakichi Toyoda, who greatly advanced the looms in Japan, which was falling behind Western Europe, by investing his whole life in the invention of looms for the society and the country. His untiring research and spirit of creation can be strongly felt if you see from the wooden human-operated loom, which was invented when he was 23, to the Type G automatic loom, which was lauded as the best loom in the world at the time.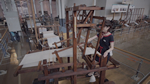 Video demonstrating the Toyoda Wooden Hand Loom in operation
Toyoda Power Loom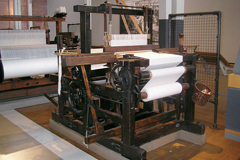 With Japan's first power loom (invented in 1896), Sakichi Toyoda introduced a number of inventions that contributed to loom automation, such as a broken weft automatic stopping device. The mixed wood and iron structure was cheap and sturdy, and productivity increased by a factor of 20, with one person able to operate three or four machines. Fabric quality was also greatly improved.

This resulted in the mechanization of the Japanese textile industry, which at the time had yet to leave the realm of craft production, and it contributed greatly to both the nation's finances and its policies for mass-exporting cotton cloth.

This museum's Toyoda power loom is recognized as a piece of Mechanical Engineering Heritage.

The Japan Society of Mechanical Engineers "Mechanical Engineering Heritage: Toyoda Power Loom" web page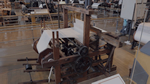 Video demonstrating the Toyoda Power Loom in operation
Non-stop Shuttle Change Automatic Loom (Type G Automatic Loom)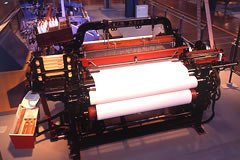 Invented and perfected by Sakichi Toyoda in 1924, the Type G automatic loom was able to change shuttles smoothly and replenish the weft thread during high-speed operation without slowing down via 24 automation and safety features such as a non-stop automatic shuttle change device, significantly improving productivity. The G-Type Automatic Loom was lauded as the best in the world in terms of overall performance and economic evaluation and contributed to the advancement in the textile industry of many countries. The technology transfer (by patent transfer) to the world's best textile manufacturer, Platt Brothers, Ltd., in England, was realized in 1929, which gave Japanese engineers confidence.
The first-created Type G Automatic Loom, which this museum owns, is designated as a Mechanical Engineering Heritage (Japan). A historically significant mechanical technology in domestic Japan has been designated as a Mechanical Engineering Heritage by the Japan Society of Mechanical Engineers in order to hand mechanical technology-related legacy that will remain in history down to the next generation as cultural heritage.

The Japan Society of Mechanical Engineers: Mechanical Engineering Heritage Page


The Japan Society of Mechanical Engineers: Designated Mechanical Engineering Heritage, Non-stop Shuttle Change Toyoda Automatic Loom, Type G, No. 1.
The Assembly Line of the Type G Automatic Loom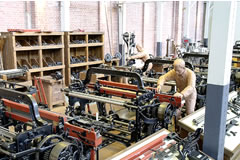 The assembly line at Toyoda Automatic Loom Works, Ltd. in the early Showa era has been reproduced and is presented by reducing the original 14 assembly processes into seven. The exhibition shows how parts are progressively put together in an assembly-line system that is run on a chain conveyor. Kiichiro Toyoda achieved a mass production of 1,000 looms per month with this assembly line and further trained the staff based on his supposition of an automated assembly system. The origin of the Toyota Production System, where the concept of Just-in-Time is integrated, was born at this point, and this exhibit tells the story of the relation between textile machinery and automobiles.
Group Operation of Type G Automatic Looms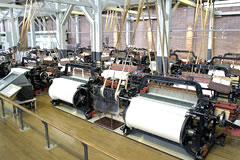 The emergence of the Type G Automatic Loom made it possible for one factory worker to operate 30 – 50 looms at a time. The exhibit illustrates the scene at a trial factory in those days when a complete automatic loom was given birth to under Sakichi Toyoda's credo in invention: "A thorough commercial trial is essential in the development of a new product." You can also see the Type G Automatic Looms start running all at once in a demonstrator's operation. With rhythmic mechanical sounds reverberating in the red brick building, the spectacle of a group of looms weaving fabric all together comes with a full impact as if you were actually in the factory.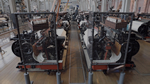 Video demonstrating the Type G Automatic Loom in operation
Changes in Various Shuttle Loom Technologies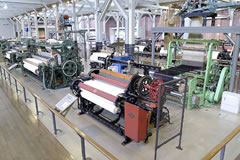 Spurred by technologies in other countries, Japan became the world leader in loom technology. Looms that employed a shuttle in weft insertion had a high versatility in applications. Therefore, devices and improvements were added to suit the needs of various fabric making. The Sakamoto Automatic Cop-Change Loom, Type G3 Toyoda Automatic Loom, Karl Zwangs swivel loom from Germany, and Ruti bilateral four-shuttle loom from Switzerland are described as typical shuttle looms.
Present-day Looms: From Ultra-high Speed to Intelligence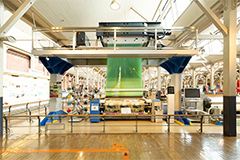 Quickly inserting wefts was required to raise loom productivity. However, there was a speed limit for a shuttle loom whose heavy shuttle repeated reciprocating motions. To transcend this limitation, a shuttleless loom where wefts can be inserted without a shuttle was developed. Rapier and gripper looms that carry the weft by grasping a weft yarn and air jet and water jet looms that propel the weft with bursts of compressed air or pressured water are examples of shuttleless looms. You can watch fabric being woven in a demonstration and study the mechanisms and characteristics of each loom type using structural models.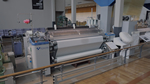 Video demonstrating the Water Jet Loom in operation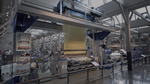 Video demonstrating the Air Jet Loom in operation