Admission
Museum admission fee
Category
Adults(aged 18 or over)
Junior and senior high school students
Elementary school students
Senior(aged 65 or over)
General admission
500 yen
300 yen
300 yen
200 yen
Group admission
(for 30 or more people)
400 yen
240 yen
240 yen
160 yen
School Field trips
(No fee for teacher guides)
250 yen
―
Free
Free
Annual Pass
(Valid for named individual only)
1,200 yen
700 yen
700 yen
500 yen
*If you are age 65 or older, please bring documentation verifying this (health insurance card, driver's licence, etc.), and present it to the admissions staff.
*Free of charge for persons holding a physical disability certificate, a certificate of receipt of designated medical expenses, etc., and one accompanying person each.
(Please present the identifying document at the general information desk. )
Shared ticket with other museums
Category
Adults(aged 18 or over)
Junior and senior high school students
Elementary school students
Senior(aged 65 or over)
Multi-Tickets(Noritake Garden's Craft Center)
800 yen
―
―
―
Multi-Tickets(Toyota Automobile Museum)
1,400 yen
740 yen
640 yen
460 yen
Annual Pass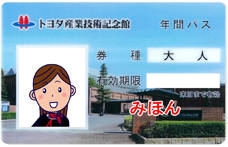 The Annual Pass gives you repeated access to the museum for one year from the date of purchase.
Purchasers of the Annual Pass also receive these special benefits:
1
Free voice guide rental (normally 200 yen)
(Available in 6 languages: Japanese, English, Chinese, Korean, Thai and Vietnamese)
2
5% discount on museum shop purchases (note:books are excluded)
3
5% discount at the restaurant Brick Age
Admission Discounts
Common Admission Tickets
Common admission tickets are available for both the Noritake Garden's Craft Center and the Toyota Automobile Museum. Common admission tickets are better than ordinary admission fees. Please refer to the fee schedule above.
---
Credit cards and mobile services that have preferential discounts that can be applied for the admission.
Discounted tickets can be purchased by those who presented the items below at the information desk of this facility.
20% Discount

A One-day Pass for the metro or city bus system, Donichi Eco Kippu (an economy ticket for Saturdays and Sundays), a One-day Ticket for the Nagoya Kanko Route Bus (Nagoya Sightseeing Route Bus), or a Hacchie Kids Club membership card
Kanko Bunka Shisetsu Yutai Waribiki Ken (a preferential discount ticket for sightseeing and visiting cultural facilities) by the Nagoya Convention & Visitors Bureau
A JTB Elavel Club membership card
If you purchase with the Toyota TS Cubic (TS3) card
Discount tickets are sold at places other than this facility.
| | |
| --- | --- |
| 20% Discount | Toyota Sangyo Gijutsu Kinenkan (the Toyota Commemorative Museum for Industry and Technology) admission tickets are sold at Ticket Pia. |