Major Basic Technologies
This exhibition section shows the kind of background the major technologies that supported Japanese industries since the later part of the Tokugawa shogunate developed. You can see a Japanese industrial history timeline from the late Tokugawa shogunate up to the present and exhibits that show the progress in power (materials and and processing) technologies that form the base of the industry.
Changes in Motive Power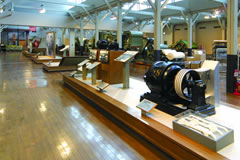 Tools were moved by human power up to the late Edo era. However, the time progressed from the age of tools to that of machines because of the import of the Western technologies. The changes in power from hydraulic to steam and to electricity are explained using replicas and actual machines of the Motive Power Garabo Throstle Spinning Machine, the Horizontal Axis Hydro Turbine, or the Drive Motor.