Expansion of the Textile Industry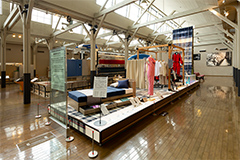 Research and development of fiber materials and processing technology have produced textile products with a wide range of functions. Such textiles have found use in clothing and many other industries, including the automobile and aerospace industries, making our lives more convenient and enjoyable.Bolstered by progress in textile machinery technology, we have succeeded in achieving technological innovation and expansion that is creating future lifestyles. This corner highlights a broad range of products produced by textile machinery to guide you through the expansion of the industry.
Textile Products Enriching Our Lives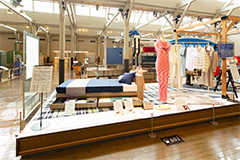 Textile products are an essential part of our lifestyle. The research and development of fiber materials and the technologies to spin and weave them have produced a wide variety of products that have enriched our lives. In addition to clothing that is warm in winter and cool in summer, here we will introduce products in our everyday lives made with textile machinery from advanced materials that resist odors, dry quickly, repel water, and have unique textures, etc.
Textile Products Used in Industrial Products
Textile products created with new fiber materials and the machinery to spin and weave them are not only used in the clothes that we wear and interior design goods around us, but also as materials for various industrial products, including substitutes for metal parts, and components used in aerospace. Here we will introduce products such as sports and outdoor goods and automobile parts.
Functional Fibers Supporting Manufacturing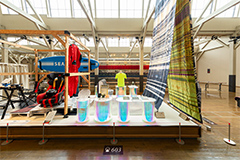 Constant research has led to the development of a succession of fibers with new and improved functionality. These functional fibers help to support new products in a variety of industries we do not normally get a chance to see. There are continuous efforts to develop new functionality and tackle environmental issues as well, and here we will introduce fibers which have the potential to improve our quality of life and contribute to a wide range of industries.
The Future of the Textile Industry and Our Way of Life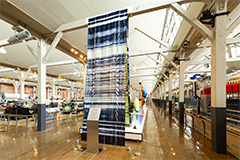 The textile industry played a central role in the modernization and industrialization of Japan, and it has produced many new products like the various textile products and new functional fibers that we covered in this corner. In the future, it will continue to create new value with regard to societal issues, and produce new industrial products which will enrich our lives. The spirit of being studious and creative continues to be passed on from generation to generation.
(*The clothes in the photos were woven on the machines displayed in the museum.)